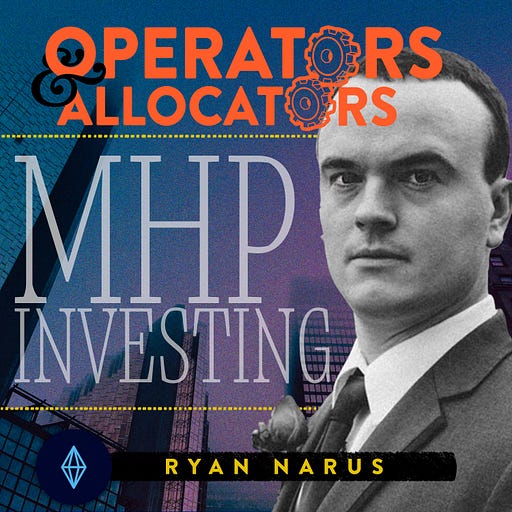 Apr 27, 2022 • 59M
MHP Investing
A podcast hosted by Dylan Marma, dedicated to exploring how to make smart investment decisions and execute well in real estate and private equity. We will be interviewing top notch sponsors in various asset classes to understand how they think and the frameworks that they've put in place with the goal of achieving above average risk adjusted returns. This podcast won't give you "tips and tricks" or tell you how to "get rich quick" instead the Operators and Allocators podcast will give you real real estate strategies that work for real people. Visit https://therequitygroup.com and follow us on youtube and find highlights by searching "Operators and Allocators Highlights" on Youtube.
We dive back into the mobile home park space but this time with Ryan Narus. Ryan definitely has strict criteria when it comes to investing into properties. He gives us a detailed list of do's & don't to always keep in mind and lays out the business plan and operations strategies he utilizes both in his day to day operations as well as when finding new deals. He also touches on what he views a great entrepreneur as, what drives him, and what he is passionate about. All these things together are what gets Ryan up every morning and what fuels him to perform at his best.
A little bit about our guest, 
Ryan graduated from Wake Forest University in 2009 with a major in Psychology and in 2016 with an MBA, concentrating in Operations and Business Analytics Statistics. Ryan started his career in sales and quickly became an award-winning salesman, selling nearly 900 cars in just under 4 years. He then authored a book sharing how to use Psychology to negotiate the best price at a car dealership. 
After achieving his MBA, Ryan joined Wells Fargo as a part of their leadership development program. Since 2015, Ryan has participated in over $30,000,000 of transactions/1800 units while driving millions of equity creation by his systems based approach. Currently, Ryan focuses on locating new opportunities and stabilizing the portfolio.
Take a look at some of the topics in this interview
00:00 - Intro

02:40 - Ryan's career shift

07:43 - Finding your comfort zone

12:03 - What opened your eyes to MHP

16:12 - Overcoming your first deal

20:47 - What systems do you use to manage

27:07 - What is your management setup

39:13 - Ryan's biggest business risk
Ryan Narus's socials
Website
Podcast
https://podcasts.apple.com/us/podcast/plateau-busting-strategies/id1365784637?i=1000504053911 
Learn more about the podcast and it's presenters at:
Register to Invest with The Requity Group:
https://investors.appfolioim.com/trg/investor/request_access
Learn more about the podcast and it's presenters at: https://therequitygroup.com/ Register to Invest with The Requity Group: https://investors.appfolioim.com/trg/investor/request_access