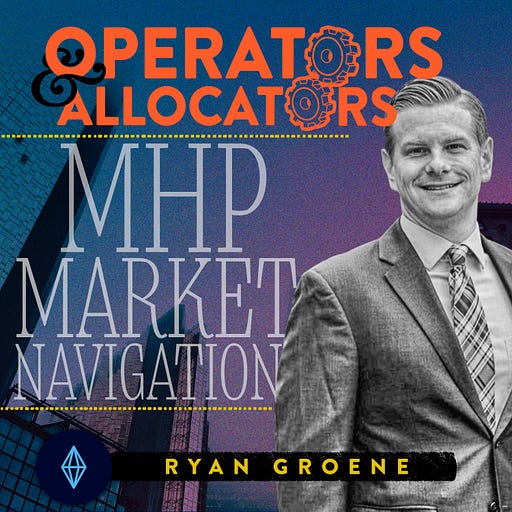 May 17, 2022 • 39M
MHP Market Navigation with Ryan Groene
A podcast hosted by Dylan Marma, dedicated to exploring how to make smart investment decisions and execute well in real estate and private equity. We will be interviewing top notch sponsors in various asset classes to understand how they think and the frameworks that they've put in place with the goal of achieving above average risk adjusted returns. This podcast won't give you "tips and tricks" or tell you how to "get rich quick" instead the Operators and Allocators podcast will give you real real estate strategies that work for real people. Visit https://therequitygroup.com and follow us on youtube and find highlights by searching "Operators and Allocators Highlights" on Youtube.
Ryan graduated from The Farmer School of Business at Miami University(OH) in 2012 with a B.S. in Finance. During his academic career, Ryan played 4 years of collegiate baseball.After graduation, he worked in the Finance industry prior to getting into the mobile home park industry full time.Currently, his portfolio has grown to over 8 parks, spreading across 400 lots across the Midwest and Southeast.
Ryan also serves as the Director of Operations for Buckeye Communities where he oversees the operations of over 500 lots spread across 8 parks in Ohio and Michigan.
2022 has shifted the way many real estate assets operate and you need to stay in the loop or you could potentially miss out on a great opportunity. Our guest this week knows a thing or two about staying on the top of trends within the space. We welcome Ryan Groene, who primarily deals in the RV park space. He talks about how the evolution of mobile home parks has caught the eye of the investor in recent years, especially in this changing economic and social climate.  Many savvy investors see this space creating gains equal to the stock market. No one would pass up a deal that has low risk and a high reward. Believe me we also want to know more about it!
A little bit about our guest, 
Take a look at some of the topics in this interview
00:00 - Intro

01:35 - Ryan's start

12 20 - Browsing criteria for RV parks

16:06 - Biggest risk in MHC or RV Parks

20:00 - Companies trading RV parks like stocks

26:45 - Unpopular opinion within today's market
Ryan Groene's socials
Website(s)
LinkedIn
https://www.linkedin.com/in/ryan-groene-22b40472/ 
Learn more about the podcast and it's presenters at:
Register to Invest with The Requity Group:
https://investors.appfolioim.com/trg/investor/request_access
Learn more about the podcast and it's presenters at: https://therequitygroup.com/ Register to Invest with The Requity Group: https://investors.appfolioim.com/trg/investor/request_access