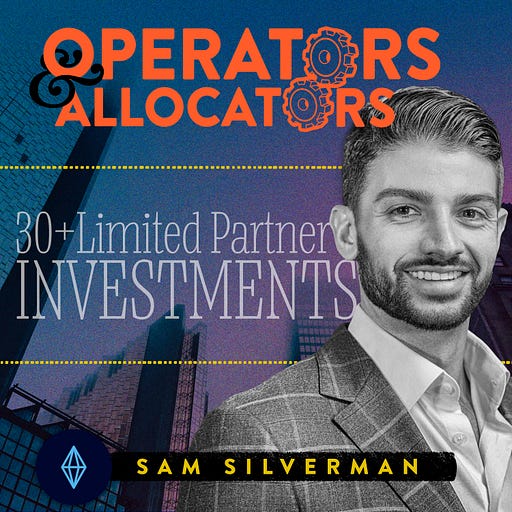 Mar 30, 2022 • 1HR 6M
30+ Limited Partner Investments with Sam Silverman
A podcast hosted by Dylan Marma, dedicated to exploring how to make smart investment decisions and execute well in real estate and private equity. We will be interviewing top notch sponsors in various asset classes to understand how they think and the frameworks that they've put in place with the goal of achieving above average risk adjusted returns. This podcast won't give you "tips and tricks" or tell you how to "get rich quick" instead the Operators and Allocators podcast will give you real real estate strategies that work for real people. Visit https://therequitygroup.com and follow us on youtube and find highlights by searching "Operators and Allocators Highlights" on Youtube.
Passive investing as limited partners is one thing qualified individuals can benefit from to help grow your capital. Some think it is as easy as just throwing money at the best sounding deal without doing the due diligence and hoping it will pay off. Sam Silverman is a real estate investor, CEO of Silverman Capital, and the top pick of investors in Tampa looking to learn how to passively invest the correct way. Sam and Dylan break down those "too good to be true deals" and compare them to the deals that might not look so great on the surface but pack hidden gems. We also pick Sam's brain about active investments and the best asset class to work with when it comes to beginner investors. 
A little bit about our guest, 
Sam has 7 years in tech sales under his belt and has been a investing his active capital in real estate as a limited partner for 3 years. As a (LP) limited partner he was able to close a boasting 30 deals and even started his own company Silverman Capital. His company focuses on showing investors how to grow wealth through real estate. Creating various projects with investors all across the United States. Enabling them to grow their wealth through various deals. 
Take a look at some of the topics in this interview
00:00 - Intro

01:45 - Sam's start

08:44 - Starting point for new investors

23:03 - Learning lessons Sam

33:44 - Be mindful of investors

40:48 - good communication is key

47:27 - Power Vetting questions

56:15 - Sams unpopular opinion
Logan D. Freeman's socials
Website(s)
Email
Learn more about the podcast and it's presenters at:
Register to Invest with The Requity Group:
https://investors.appfolioim.com/trg/investor/request_access
Learn more about the podcast and it's presenters at: https://therequitygroup.com/ Register to Invest with The Requity Group: https://investors.appfolioim.com/trg/investor/request_access