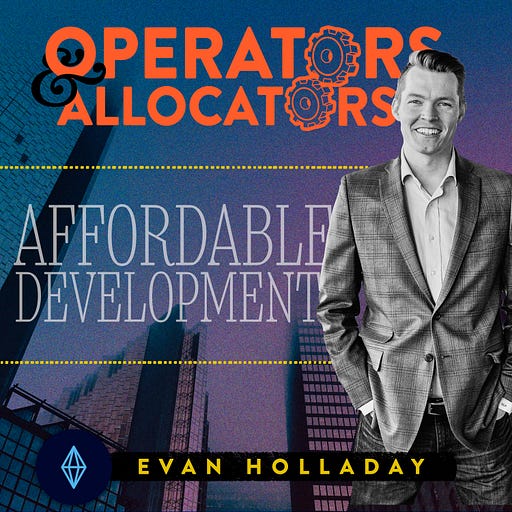 Mar 2, 2022 • 47M
Affordable Development with Evan Holladay
A podcast hosted by Dylan Marma, dedicated to exploring how to make smart investment decisions and execute well in real estate and private equity. We will be interviewing top notch sponsors in various asset classes to understand how they think and the frameworks that they've put in place with the goal of achieving above average risk adjusted returns. This podcast won't give you "tips and tricks" or tell you how to "get rich quick" instead the Operators and Allocators podcast will give you real real estate strategies that work for real people. Visit https://therequitygroup.com and follow us on youtube and find highlights by searching "Operators and Allocators Highlights" on Youtube.
There is a big misconception of affordable housing in this day and age, Evan Holladay is going to clear up how it works and the benefits of the working class. He also gives us a boots on the ground view of his company and how he himself and his staff go about acquiring property and how acquiring that property allows them to give back to surrounding areas. Affordable housing isn't the only topic of discussion on this episode, we also got the chance to pick his brain about current real estate markets and hear his thoughts on the broad view of the near future.
A little bit about our guest, 
Evan found his passion for real estate while at the University of Louisville, working for a developer on a $55 million student-housing mixed-use development. From there, he and a group of others started a modular development company that focused on taking houseboat manufacturing plants and refitting them to build modular, energy-efficient and mixed income multifamily housing. This is where he found his passion for providing quality attainably priced communities for working class families. He then went on to work alongside one of the top affordable housing developers in the country & realized his desire to make a bigger impact by including community empowerment, sustainability & impact investing.
Take a look at some of the topics in this interview
00:00 - Intro

02:00 - Evan's start

06:42 - Expressing the bigger picture

11:30 - Creating incentives

22:34 - Affordable housing basics

30:00 - Affordable housing requirements

37:19 - Best practices for getting started

41:56 - Current vision & future vision
Evan Holladay's socials
Website
Business website
https://holladayventures.com/about/ 
Instagram
https://www.instagram.com/evanholladay 
Learn more about the podcast and it's presenters at:
Register to Invest with The Requity Group:
https://investors.appfolioim.com/trg/investor/request_access
Learn more about the podcast and it's presenters at: https://therequitygroup.com/ Register to Invest with The Requity Group: https://investors.appfolioim.com/trg/investor/request_access