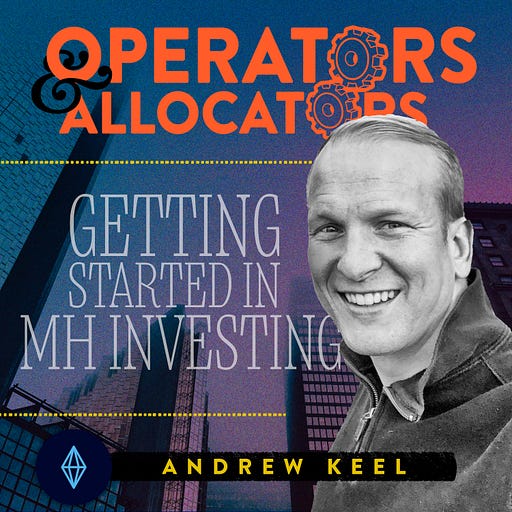 Jan 6, 2022 • 34M
Getting started in MH Investing with Andrew Keel
A podcast hosted by Dylan Marma, dedicated to exploring how to make smart investment decisions and execute well in real estate and private equity. We will be interviewing top notch sponsors in various asset classes to understand how they think and the frameworks that they've put in place with the goal of achieving above average risk adjusted returns. This podcast won't give you "tips and tricks" or tell you how to "get rich quick" instead the Operators and Allocators podcast will give you real real estate strategies that work for real people. Visit https://therequitygroup.com and follow us on youtube and find highlights by searching "Operators and Allocators Highlights" on Youtube.
During this episode we had the chance to speak with a mobile home community rockstar Andrew Keel. He gives us a look at the inner workings of this investment space, from browsing to owning to operating multiple lots inside of a mobile housing park. There are a lot of do's and don'ts when entering this capital raising property opportunity. Let Andrew be your teacher this episode, grab a pen and paper. it's going to be an information filled ride on this episode of Operators & Allocators.
A little bit about our guest, 
Andrew Keel is the owner of Keel Team, which owns and operates over 20 mobile home parks across 10 states. He was raised in an upper middle class neighborhood, his father was a small business owner and entrepreneur as Andrew grew up and that is where he gets his entrepreneur drive from. He didn't instantly start out investing on his own. Starting out as an apprentice to a local Central Florida real estate wholesaler. Using the knowledge he gained he started to look at ways to generate monthly cash flow and found a YouTuber by the name Lonnie Scruggs and followed his series and purchased his first of many mobile home units. Currently he owns and operates 1,030 lots across 20 mobile home parks in 10 states and we have a few mobile home parks under contract.
Andrew digs deep into giving you advice if you are looking to enter the mobile home communities
Start with small communities with public utility  
Find inspiration & devise a strategy
Take a look at some of the topics in this interview
1:14 - Andrew opens up about his story

6:19 - Views on the market from then to now?

7:23 - What are some of your criteria for a property purchase?

13:30 - Park owned home communities

17:24 - Devising a strategy

18:50 - Unpopular opinion

23:00 - Finding Inspiration

27:00 - Best practices

31:00 - Important closing notes
Andrew Keel socials
Personal Website
Passive Mobile Home Investing Podcast
https://podcasts.apple.com/us/podcast/passive-mobile-home-park-investing/id1520681893 
Instagram
https://www.instagram.com/keelteam 
Youtube
https://www.youtube.com/channel/UCKIPwBKFMD8JMAbLsXoZF-A 
Learn more about the podcast and it's presenters at:
Register to Invest with The Requity Group:
https://investors.appfolioim.com/trg/investor/request_access
Learn more about the podcast and it's presenters at: https://therequitygroup.com/ Register to Invest with The Requity Group: https://investors.appfolioim.com/trg/investor/request_access