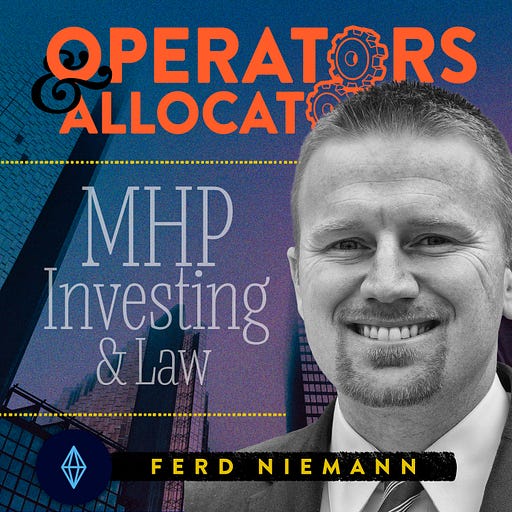 Jan 19, 2022 • 36M
MHP Investing & Law - Ferd Niemann
A podcast hosted by Dylan Marma, dedicated to exploring how to make smart investment decisions and execute well in real estate and private equity. We will be interviewing top notch sponsors in various asset classes to understand how they think and the frameworks that they've put in place with the goal of achieving above average risk adjusted returns. This podcast won't give you "tips and tricks" or tell you how to "get rich quick" instead the Operators and Allocators podcast will give you real real estate strategies that work for real people. Visit https://therequitygroup.com and follow us on youtube and find highlights by searching "Operators and Allocators Highlights" on Youtube.
To connect the legal and business side of real estate, you need experience and, in many cases, a team of specialized individuals. On today's episode of Operators & Allocators, we sit down with Ferd Niemann, a jack of all trades when it comes to managing his real estate businesses. As a mobile home park owner, operator, lawyer, as well as a real estate investor, Ferd discusses with us how he can wear the many hats needed to get the job done.
A little bit about our guest,
Ferd Niemann experience includes mobile home park investments and turnarounds, retail development and redevelopment, residential investments, and real estate law. Before starting his own firm – The MHP Lawyer – Ferd practiced law at a top Kansas City firm focusing on economic development incentives, public finance, property tax assessments, redevelopment, land use, and zoning. Ferd was also the associate editor for Missouri Land Use Law & Practice and Missouri Economic Development Law, the foremost treatises in the fields. Prior to law school at UMKC, Ferd graduated from Rockhurst University with a bachelor's degree in finance and an MBA.
Take a look at some of the topics in this interview
00:00 - Intro

01:49 - Ferd's story 

09:09 - Let's talk paid extensions

12:33 - Due diligence period

18:40 - Delegate your business

23:00 - Helpful Kpi indicators

25:47 - Your Market views then to now

30:22 - Biggest red flags
Fred Niemann's socials
Website
https://themobilehomelawyer.com/ferd-niemann/ 
Linked in 
https://www.linkedin.com/in/themhplawyer-ferdniemann6923147  
Podcast
https://themobilehomelawyer.com/category/podcast/ 
Learn more about the podcast and it's presenters at:
Register to Invest with The Requity Group:
https://investors.appfolioim.com/trg/investor/request_access
Learn more about the podcast and it's presenters at: https://therequitygroup.com/ Register to Invest with The Requity Group: https://investors.appfolioim.com/trg/investor/request_access