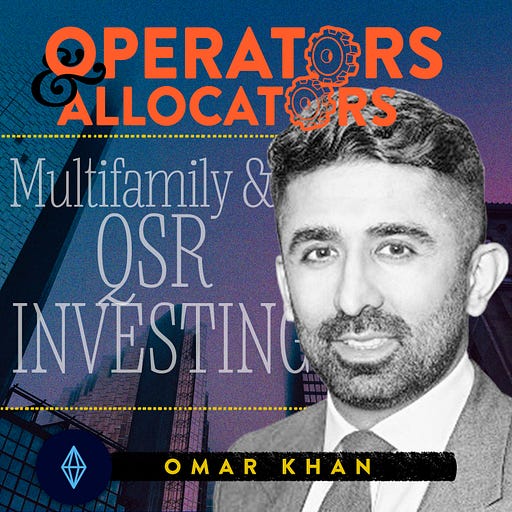 Feb 20, 2022 • 43M
Multifamily & QSR Investing with Omar Kahn
A podcast hosted by Dylan Marma, dedicated to exploring how to make smart investment decisions and execute well in real estate and private equity. We will be interviewing top notch sponsors in various asset classes to understand how they think and the frameworks that they've put in place with the goal of achieving above average risk adjusted returns. This podcast won't give you "tips and tricks" or tell you how to "get rich quick" instead the Operators and Allocators podcast will give you real real estate strategies that work for real people. Visit https://therequitygroup.com and follow us on youtube and find highlights by searching "Operators and Allocators Highlights" on Youtube.
Today we have a treat for you! Omar Khan is not only a good friend of mine but his balanced perspective in the real estate market is bar-none. His witty and out going approach definitely makes him a real estate investor you need to know. It is not always fun and games, he knows how to close deals and get through the mud if a deal goes sideways. Being well rounded in this field is a must and with Omar in your corner, you will definitely win. This is going to be an awesome episode of Operators & Allocators.
A little bit about our guest, 
Omar is responsible for capital raising, strategic planning and investor relations. He has over 10 years of global investment experience. He is a founder at Boardwalk Wealth, a leading private equity sponsor focusing on acquiring value-add and opportunistic real estate across the South East. We are active across Texas, Florida and Georgia with 1,400+ units acquired to date.
Take a look at some of the topics in this interview
00:00 Intro

02:06 - Omar's start 

06:30 - Omar's deal criteria

10.10 - Getting comfortable with operations

23:50 - What is a good market

28:02 - Current view of today's market

31:26 - Omar's unpopular opinion

37:33 - 2 best practices for investors
Omar Khan's socials
Website
https://www.boardwalkwealth.com/our-team/ 
Email
Learn more about the podcast and it's presenters at:
Register to Invest with The Requity Group:
https://investors.appfolioim.com/trg/investor/request_access
Learn more about the podcast and it's presenters at: https://therequitygroup.com/ Register to Invest with The Requity Group: https://investors.appfolioim.com/trg/investor/request_access