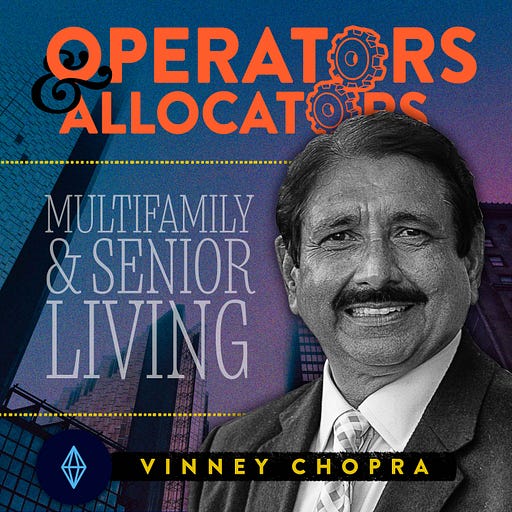 Dec 21, 2021 • 55M
Multifamily & Senior Living with Vinney Chopra
A podcast hosted by Dylan Marma, dedicated to exploring how to make smart investment decisions and execute well in real estate and private equity. We will be interviewing top notch sponsors in various asset classes to understand how they think and the frameworks that they've put in place with the goal of achieving above average risk adjusted returns. This podcast won't give you "tips and tricks" or tell you how to "get rich quick" instead the Operators and Allocators podcast will give you real real estate strategies that work for real people. Visit https://therequitygroup.com and follow us on youtube and find highlights by searching "Operators and Allocators Highlights" on Youtube.
We sat down with the Senior living multifamily giant Vinney "Smile" Chopra, He gives us insight to how he operates his business ventures and gives tips and strategies you could use to close deals. Breaking it all down in easy to learn steps, these guidelines range from your approach, what kind of partner you should have in your corner, prospecting a location plus so much more. It was an honor to sit down and learn new insights about senior multifamily investigation.
A little bit about our guest, 
Vinney Chopra AKA Vinney "Smile" Chopra, originally a mechanical engineer, came to the US from India with humble beginnings. However over the past 12 years he has done 28 successful syndications, 14 of those being in the past 3 years! He has achieved enormous success controlling over $330 million, 4,100 doors. 
He and his 67 professional full-time team members manage all assets from acquisition to disposal. Vinney is also a best selling author with his book "Apartment Syndication Made Easy" and has a new book coming out soon called "Positivity Brings Profitability".
"You have to live in the moment" - Vinney Chopra
This one on one sit down was packed with great perspective and knowledge in the multifamily field and real estate as a whole. Here are a few tips Vinney gives us in this episode
Goal setting is important – Mindset is important, take stock, in what you've done today, live in the present, in the now.

Get in the right financial vehicle – the right job and the right place to spend your time in order to find a comfortable lifestyle. Vinney and so many others have picked real estate as it provides a scalable & sustainable vehicle that continues to prove recession resistant and essential.

Taking notes is important – you're constantly learning in this field and it's extremely important to constantly keep writing. Regardless of where you're taking them (phone, paper, ipad, etc) Even if you think you're going to remember it, that information will be gone a couple years from now. It's important and impactful to have the notes on hand years from now especially with brokers, things like these can make important impacts on relationships

Making the right connections - Find a good partner for your business (experience, outside knowledge)

Gathering data - Demographic research, Climate, what facilities are local. 
Take a look at some of the topics in this interview
08:20 - How to set goals 

13:00 - Vinney tells the start of his real estate journey

17:00 - The many ways to senior assisted living

24:59 - Dylan asks "how do you manage your properties"

31:40 - Word of advice for starting out

38:00 - Day to day reporting practices 

35:20 - How to mitigate risk

40:00 - Having access to different property material

46:50 - Closing thoughts from Vinney
Vinney's socials
https://twitter.com/Smilingvinney | https://www.linkedin.com/in/vinney-smile-chopra/ | https://www.facebook.com/vinney.chopra.52 | https://www.instagram.com/vinneychopra/
Learn More about the podcast and it's presenters at: