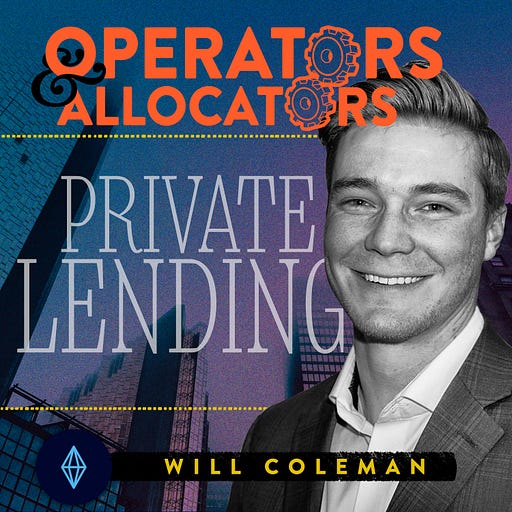 Feb 24, 2022 • 54M
Private Lending with Will Coleman
A podcast hosted by Dylan Marma, dedicated to exploring how to make smart investment decisions and execute well in real estate and private equity. We will be interviewing top notch sponsors in various asset classes to understand how they think and the frameworks that they've put in place with the goal of achieving above average risk adjusted returns. This podcast won't give you "tips and tricks" or tell you how to "get rich quick" instead the Operators and Allocators podcast will give you real real estate strategies that work for real people. Visit https://therequitygroup.com and follow us on youtube and find highlights by searching "Operators and Allocators Highlights" on Youtube.
Reconnecting with an old partner can bring on great inspiration, today's episode I will be interviewing a good friend and business partner Will Coleman. We worked side by side, learning the real estate business and closing deals together for a few years. Will is here to tell us about his leading company, with the focus of closing deals faster and smarter.(Have Dylan confirm if this is okay, as it isn't their motto per say). He has a lot of insight that will help you find your start and aid in current affairs, so grab a seat and enjoy this episode of Operators & Allocators!
A little bit about our guest, 
Will began his real estate career in 2016 by investing in and self-managing single family properties in the DFW market. In 2018 Will began working in commercial lending at City Bank as a Credit Analyst underwriting over $50MM in transactions.
Will then worked at Rand Capital as Director of Finance running a commercial mortgage brokerage that closed over $24MM in loans within the first 14 months. In 2020 Will formed UrbanGate Capital, a hard money lending business in TN with his business partner Brandon Thornberry which has successfully raised and lent out $5MM in its first year.
Take a look at some of the topics in this interview
00:00 Intro

02:59 - Will Coleman's start

14:00 - Will shares his companies product

18:20 - Will's long term strat

21:56 - Which advantage complements your strategy?

26:26 - What is the value and who is the target?

36:16 - unpopular opinion

38:36 - Will's learning lesson 

43:07 - Dylan's & Will's motivation
Will Coleman's socials
Website
https://www.urbangatecapital.com/
Email
Learn more about the podcast and it's presenters at:
Register to Invest with The Requity Group:
https://investors.appfolioim.com/trg/investor/request_access
Learn more about the podcast and it's presenters at: https://therequitygroup.com/ Register to Invest with The Requity Group: https://investors.appfolioim.com/trg/investor/request_access