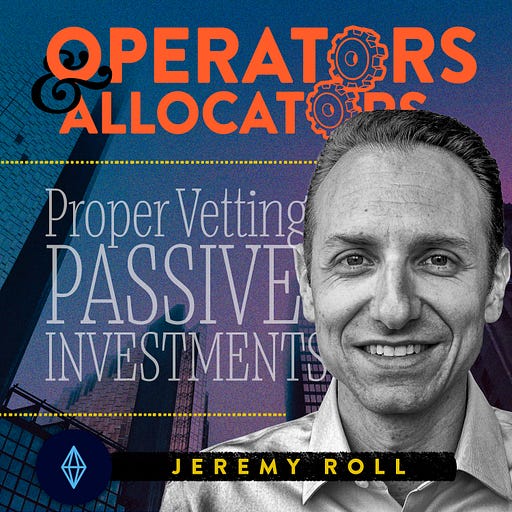 Jan 26, 2022 • 37M
Properly Vetting Passive Investments - Jeremy Roll
A podcast hosted by Dylan Marma, dedicated to exploring how to make smart investment decisions and execute well in real estate and private equity. We will be interviewing top notch sponsors in various asset classes to understand how they think and the frameworks that they've put in place with the goal of achieving above average risk adjusted returns. This podcast won't give you "tips and tricks" or tell you how to "get rich quick" instead the Operators and Allocators podcast will give you real real estate strategies that work for real people. Visit https://therequitygroup.com and follow us on youtube and find highlights by searching "Operators and Allocators Highlights" on Youtube.
We are excited to have a chance to sit down with passive investor pro Jeremy Roll. Jeremy is always on the go and creates his success with a hands-off approach. He is a strong believer of vetting his deals and anyone that handles the operation. You don't want to get mixed up in a 10 year deal and not have your due diligence in place right? He gives his personal advice on ways to look at and structure deals as well as a few key resources you should utilize to reduce risk.  A little bit about our guest, 
Jeremy started investing in real estate and businesses in 2002 and left the corporate world in 2007 to become a full-time passive cash flow investor. He is currently an investor in more than 60 opportunities across more than $1 Billion worth of real estate and business assets. As Founder and President of Roll Investment Group, Jeremy manages a group of over 1,500 investors who seek passive/managed cash flowing investments in real estate and businesses.
Take a look at some of the topics in this interview
00:00 - Intro

02:00 - Early investments vs now

06:08 - Vetting operators 

09:26 - Your first asset class

10:55 - Must ask questions

17:00 - Invest strategic

20:30 - 5 to 10 years

26:18 - Quality operations

28:40 - Painful learning lesson
Jeremy Roll's socials
Email
Linked in 
https://www.linkedin.com/in/jeremy-roll-655107   
Learn more about the podcast and it's presenters at:
Register to Invest with The Requity Group:
https://investors.appfolioim.com/trg/investor/request_access
Learn more about the podcast and it's presenters at: https://therequitygroup.com/ Register to Invest with The Requity Group: https://investors.appfolioim.com/trg/investor/request_access