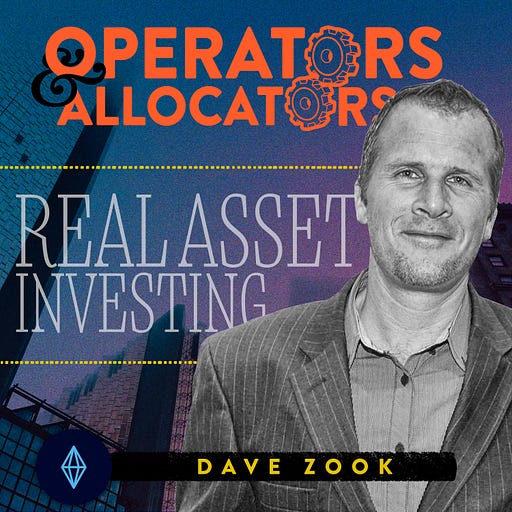 Mar 9, 2022 • 37M
Real Asset Investing with Dave Zook
A podcast hosted by Dylan Marma, dedicated to exploring how to make smart investment decisions and execute well in real estate and private equity. We will be interviewing top notch sponsors in various asset classes to understand how they think and the frameworks that they've put in place with the goal of achieving above average risk adjusted returns. This podcast won't give you "tips and tricks" or tell you how to "get rich quick" instead the Operators and Allocators podcast will give you real real estate strategies that work for real people. Visit https://therequitygroup.com and follow us on youtube and find highlights by searching "Operators and Allocators Highlights" on Youtube.
Taking control of your financial's can be a daunting task. Our guest this week Dave Zook explains many ways to create financial freedom. It was so intriguing to learn how owning an ATM could net you passive income. Beside giving us an A-Z lesson in passive income streams he dove into his other asset classes that have resulted in net-wins for himself and his company. This and so much more is covered in this week's episode of Operators & Allocators, we hope you enjoy!
A little bit about our guest, 
Dave Zook is a successful business owner and an experienced real estate investor active in Multifamily Apartments, Self-storage and the ATM space. He has acquired more than $100 million worth of real estate since 2010. At the time of this writing, he and his investors own approximately 3000 Multi-family Apartment units. Together with his business partner, Dave is a renowned and trusted professional resource in the Automatic Teller Machine (ATM) investment market where they have deployed more than $90 million of investor capital and they are heavily invested personally in the ATM space.
Take a look at some of the topics in this interview
00:00 - Intro

01:55 - Story

04:54 - Pivot to real estate

07:13 - Key fundamentals

13:28 - Vetting partners

17:57 - View on today's market

23:35 - Dave's ATM business

31:15 - Institutions & business
Dave Zook's socials
Website
https://www.therealassetinvestor.com
Learn more about the podcast and it's presenters at:
Register to Invest with The Requity Group:
https://investors.appfolioim.com/trg/investor/request_access
Learn more about the podcast and it's presenters at: https://therequitygroup.com/ Register to Invest with The Requity Group: https://investors.appfolioim.com/trg/investor/request_access