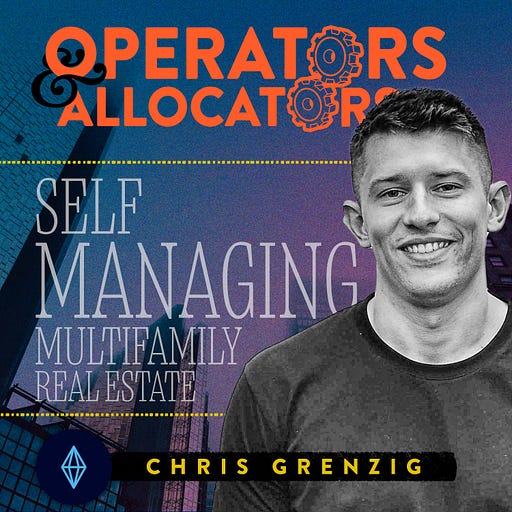 Jan 12, 2022 • 51M
Self Managing Multifamily Real Estate with Chris Grenzig
A podcast hosted by Dylan Marma, dedicated to exploring how to make smart investment decisions and execute well in real estate and private equity. We will be interviewing top notch sponsors in various asset classes to understand how they think and the frameworks that they've put in place with the goal of achieving above average risk adjusted returns. This podcast won't give you "tips and tricks" or tell you how to "get rich quick" instead the Operators and Allocators podcast will give you real real estate strategies that work for real people. Visit https://therequitygroup.com and follow us on youtube and find highlights by searching "Operators and Allocators Highlights" on Youtube.
Self Managing your real estate portfolio can be daunting, luckily we were able to sit down with a self starter and a self managing pro, Chris Grenzig. Chris walks us through his DIY mindset and how he applied it to real estate. He outlines the mistakes and failures he's made and what he's learned along the way. Chris imparts method he's used to set our listeners up for success be it trying to control a property alone or purchasing other capital growing assets.
We would like to welcome Chris Grenzig to Operators & Allocators.
A little bit about our guest, Chris is the Founder of JAG Communities which is a vertically integrated multifamily focused investment firm based in Jacksonville, FL. Chris started investing in real estate in 2016 by attempting to flip houses in Long Island, NY. After months of failing, he attempted out of state flips, purchasing tax deeds, and finally found his footing in multifamily. Chris joint ventured on just over 100 units, before joining Toro Real Estate Partners as their head of Florida operations. Toro purchased 4000 units worth $300 mil, with 1000 units in Florida over 4 and half years. Chris eventually left Toro in Nov 2020 to start his own company which owns and manages small to mid-sized apartment complexes in Jacksonville, MSA. JAG Communities currently owns and manages 40 units worth $3 million, with a 10-year vision to scale to $500 million AUM.
Take a look at some of the topics in this interview 0:00 - Introduction 1:18 - Chris story 5:15 - Self managing 7:35 - Is Self Managing painful? 10:10 - Deal criteria 12:33 - Market Strategy 16:24 - Biggest Risk in Multi family 20:20 - Unpopular opinion with Chris 26:20 - Bullish on low cap rates 32:50 - Sourcing deals 34:40 - Best bang for your money 40:00 - Chris's learning lesson 46:47 - Best practices and closing thoughts
Chris Grenzig socials
The Real Estate Investing Experience https://podcasts.apple.com/us/podcast/the-real-estate-investing-experience/id1481520260
Instagram https://www.instagram.com/chris.grenzig
Youtube https://www.youtube.com/c/ChrisGrenzig
Learn more about the podcast and it's presenters at: https://therequitygroup.com/
Register to Invest with The Requity Group: https://investors.appfolioim.com/trg/investor/request_access
Learn more about the podcast and it's presenters at: https://therequitygroup.com/ Register to Invest with The Requity
Group: https://investors.appfolioim.com/trg/investor/request_access