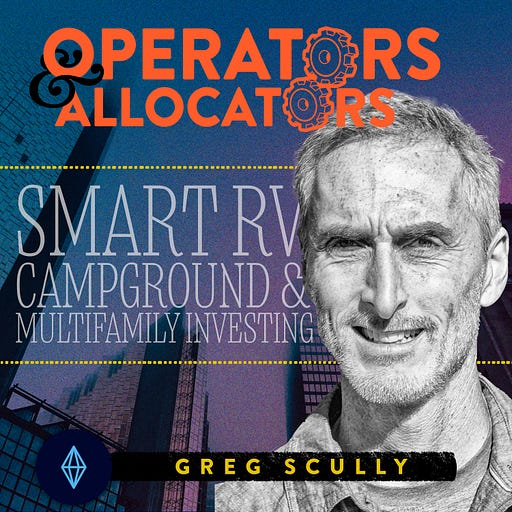 Mar 16, 2022 • 55M
Smart RV Campground and Multifamily Investing with Greg Scully
A podcast hosted by Dylan Marma, dedicated to exploring how to make smart investment decisions and execute well in real estate and private equity. We will be interviewing top notch sponsors in various asset classes to understand how they think and the frameworks that they've put in place with the goal of achieving above average risk adjusted returns. This podcast won't give you "tips and tricks" or tell you how to "get rich quick" instead the Operators and Allocators podcast will give you real real estate strategies that work for real people. Visit https://therequitygroup.com and follow us on youtube and find highlights by searching "Operators and Allocators Highlights" on Youtube.
Today we ask the question, buy big or buy comfortable? Greg Scully gives us both sides of the coin when it comes to real estate investing. There is no wrong answer but there are benefits to both sides. Greg and I express our thoughts on the matter and deep-dive on the current gas prices and its impact on RV camping resorts. Is there a downturn with the RV market or could this be a good sign? Stay tuned for more!
A little bit about our guest, 
Greg started investing in real estate in 2016 and has been fulltime with it since 2019.  With a focus on Central and Eastern Tennessee, Greg has actively participated in syndications, joint ventures and house flipping with the recent addition of RV resorts. When not underwriting or asset management, Greg and his wife/business partner enjoy hiking and trying not to talk about real estate.
Take a look at some of the topics in this interview
01:45 Greg Scully start

03:25 Starting with the LP route

10:00 Eye opening realizations when managing

17:55 Advice before starting

20:11 Greg's views on Multifamily market

25:04 Buying smaller multifamily

34:40 RV campgrounds and its potential

50:03 Major tips for new operators and passive investor
Greg Scully's socials
Website
https://realwealth.solutions/our-team
Learn more about the podcast and it's presenters at:
Register to Invest with The Requity Group:
https://investors.appfolioim.com/trg/investor/request_access
Learn more about the podcast and it's presenters at: https://therequitygroup.com/ Register to Invest with The Requity Group: https://investors.appfolioim.com/trg/investor/request_access