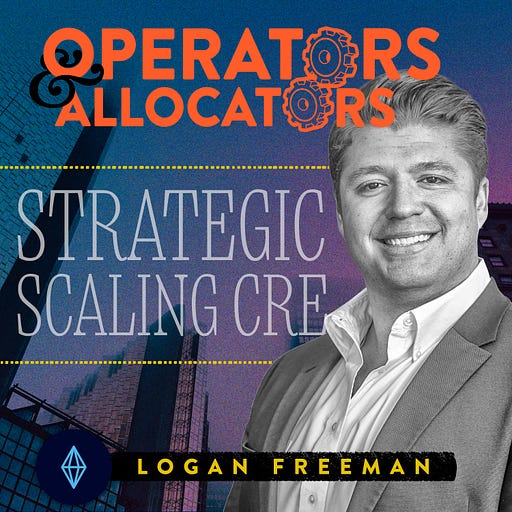 Mar 23, 2022 • 45M
Strategic Scaling CRE with Logan Freeman
A podcast hosted by Dylan Marma, dedicated to exploring how to make smart investment decisions and execute well in real estate and private equity. We will be interviewing top notch sponsors in various asset classes to understand how they think and the frameworks that they've put in place with the goal of achieving above average risk adjusted returns. This podcast won't give you "tips and tricks" or tell you how to "get rich quick" instead the Operators and Allocators podcast will give you real real estate strategies that work for real people. Visit https://therequitygroup.com and follow us on youtube and find highlights by searching "Operators and Allocators Highlights" on Youtube.
Acquiring multiple asset classes can be beneficial even outside of profits, it could sharpen your knowledge and network. Logan D Freeman, is the man that likes to know the ins and outs of everything dealing from multifamily to commercial. We get to pick his brain to see his tips to making the best of every business endeavor. We cover office space, retail properties, multifamily and various commercial properties. Get those notepads out, we have a lot to cover!
A little bit about our guest, 
Logan Freeman is a commercial real estate agent, developer, investor and capital raiser. He represents buyers and sellers of multifamily and commercial properties. He sources cash flowing properties for investors through creativity, networking, and work-ethic which has developed into a proven strategy to win. 
In 2019 He completed over $35M worth of acquisitions and helped over 10 out of state
investors actively purchase commercial real estate investments. In 2020, he doubled that and in 2021 him and his team completed over $90M in CRE transactions
Take a look at some of the topics in this interview
00:00 – Intro

02:40 – Logan's start

11:11 – Natural born leader or taught?

15:00 – First time starting blindspots

31:55 – Key things to know  when looking at Investments

34:20 – Office space or Retail?

37:49 – 10 year business plan
Logan D. Freeman's socials
Website(s)
https://ftwinvestmentsllc.com/logan-freeman/ 
https://www.livefreeinvestments.com/
Linked In
https://www.linkedin.com/in/livefreeinvestments 
Learn more about the podcast and it's presenters at:
Register to Invest with The Requity Group:
https://investors.appfolioim.com/trg/investor/request_access
Learn more about the podcast and it's presenters at: https://therequitygroup.com/ Register to Invest with The Requity Group: https://investors.appfolioim.com/trg/investor/request_access