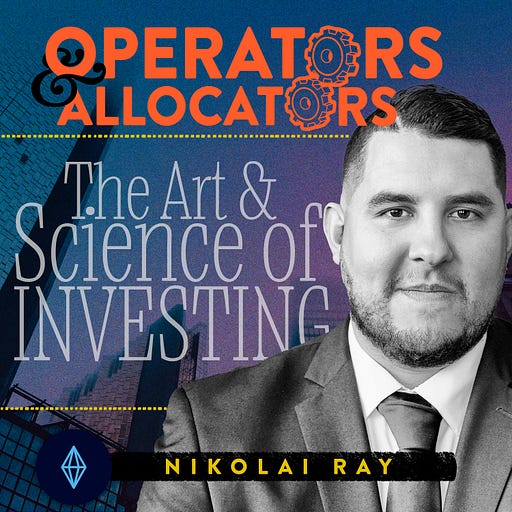 Feb 9, 2022 • 53M
The Art & Science of Investing with Nikolaï Ray
A podcast hosted by Dylan Marma, dedicated to exploring how to make smart investment decisions and execute well in real estate and private equity. We will be interviewing top notch sponsors in various asset classes to understand how they think and the frameworks that they've put in place with the goal of achieving above average risk adjusted returns. This podcast won't give you "tips and tricks" or tell you how to "get rich quick" instead the Operators and Allocators podcast will give you real real estate strategies that work for real people. Visit https://therequitygroup.com and follow us on youtube and find highlights by searching "Operators and Allocators Highlights" on Youtube.
Bridging the gap and bringing investors together to partner up and learn more on Multifamily property investments can be hard. Nikolaï Ray has an answer for that, he is the founder and CEO of MREX (Multifamily Real Estate Exchange). It's an all in one solution to aid and advance your investment portfolio through continuous growth and resourcefulness. We also discussed strategies to improve your weaknesses through building a solid team plus much more. There are so many golden nuggets on this episode of Operators & Allocators, enjoy!
A little bit about our guest, 
Nikolaï Ray has a long list of achievements under his belt, he is an ex pro hockey player, 3-time Olympics human performance coach, successful entrepreneur, intellectual & practitioner, and multifamily real estate expert. He spent the last 13 years building businesses in the fields of international level sports performance and exercise science, and real estate. Analyzing and structuring more than $10 billion dollars in multifamily real estate acquisitions. 
He is also the founder and CEO of MREX (Multifamily Real Estate Exchange), which will democratize and transform real estate investing both in the United States and Worldwide. The MREX also supports the investment property community through being an education platform.
Take a look at some of the topics in this interview
00:00 - Intro

01:51 - Career shift to multifamily 

08:00 - Explaining different aspects

10:32 - Partnering up a weakness?

13:33 - The many hats of real estate

14:33 - What impacts your decision when partnering

16:45 - Company goals and vision

29:42 - Creating wealth in today's environment

44:13 Niko's Biggest risk
Nikolaï Ray's socials
Instagram
https://www.instagram.com/nikolairay/?hl=en
Youtube
https://www.youtube.com/channel/UCyWXhZriEbmBhhKMXgzRJYQ
Website
Learn more about the podcast and it's presenters at:
Register to Invest with The Requity Group:
https://investors.appfolioim.com/trg/investor/request_access
Learn more about the podcast and it's presenters at: https://therequitygroup.com/ Register to Invest with The Requity Group: https://investors.appfolioim.com/trg/investor/request_access